Navajeewan Treatment and Rehabilitation for Female Drug Users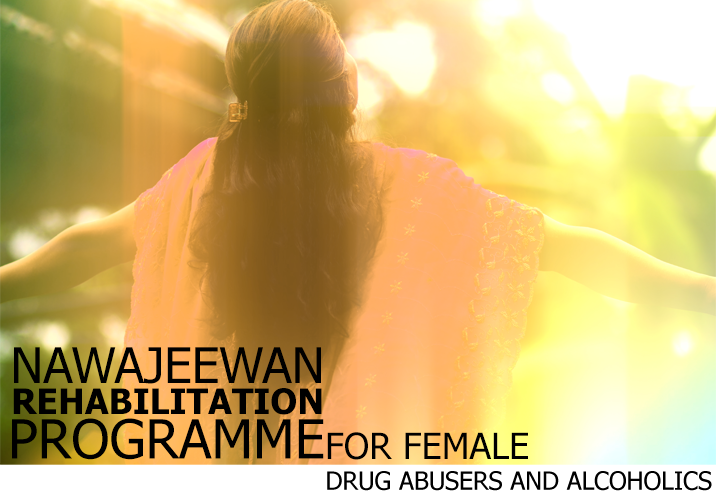 The objective of this programme is to help women who are dependent on drugs and alcohol and rehabilitate them to normal social life by providing them opportunities for treatment, psycho-social support and skills for livelihood.
The Nawajeewan Rehibilitation Programme is comprised of the following activities:
Outreach:This activity is focused on new contacts with new clients, education about drugs, information on available help and support, motivation for better life and to join treatment programme at Nawajeewan Rehabilitation Programme.
Residential programme (One year programmeNawajeewan Residence is located in a very quiet location.
The first three months at this programme is focused on remaining abstinent from chemicals. Various therapies along with education have been designed to support the clients. Use of medication is not encouraged unless necessary and prescribed by specialists. The residence is fully abstinent – no tobacco and liquor is allowed.
The second 3-6 months have been designed as the development phase. During this period, the client's potentials and interest is discovered, future planned and the need for self-sustainability identified. The means such as training is sought and provided.
The last three months is intensively focused on restoration of relationship and normal social life. Parents or any responsible person are contacted regularly, supported, educated and prepared to accept their member back to the family and community. The clients' confidence is built up and trained on relapse related issues.
Regular follow-up is carried out with the clients and their family after their discharge from the residential programme. The follow-up is basically based on needs however, it is tried to limit within 3 years after discharge from the residential programme.
HIV & AIDS Awareness and Empowerment Programme
This programme aims to raise awareness of HIV/AIDS amongst churches, schools, community groups, religious groups extending from the Pokhara valley to the neighbouring districts. As this pandemic is causing devastating problems in our society, the empowerment section includes training and workshops to the grass-root level people who can help HIV not to spread and also to take care of the HIV infected and affected.
The activities undertaken in order to achieve objectives are as follows:
Awareness class: 2-4 hours each session.
Training and workshops for leaders and lay-workers
Linkage and referral of people with needs to resources and support
Support to the HIV infected and affected people
Rallies and publicity through posters, brochures and media
Adult Literacy Programme:
This programme aims to help illiterate women learn to read and write. During the first six months, participants learn basic reading and writing. Then the next three months they learn basic maths. After completion of literacy classes, groups are encouraged and facilitated to start group saving and credit schemes which falls under the community development support programme of ACN.
The activities operating under Adult Literacy Programme are as follows:
Motivational meetings with churches and groups to identify local needs and seeking assurance of their commitment.
Training for literacy teachers
6 months classes on basic reading and writing
3 months classes on basic maths
Functions and events to encourage participants
Community Development Support Programme
This programme focuses on community development in participation with the user groups, communities, churches and local government in all possible ways. ACN facilitates needs identification, planning, identifying resources, and implementation of projects. ACN further provides practical assistance depending on the availability of resources.
The activities under Community Development Support Programme consist of:
Safe drinking water
Toilet construction
Skills for livelihood training
Income generating activities: provides skills and resources
Groups saving and credit: particularly among women from the literacy groups
Capacity Building: trainings and workshops are organised on current issues and felt needs to church and community leaders.