Nepal, has been known to the World as the land of mighty Himalayas. But we know that has not been the topic about Nepal from the 25th of April, this year.
Till now, the death toll has been reported at more than 8,710 and rising as we discover new bodies. 19 districts of Nepal have been affected where 14 are assumed to be affected severely.
The communities and amounts of their support for Nepal are stories on their own. Emergency supports have been given by many from foreign agencies to Nepali individuals. ACN is not an exception in its attempt to try and rebuild what has been destroyed, in a spectrum from physical to psychological damage.
As many of us may already know, ACN, integrated with the Pokhara Christian Community has launched a full- phase relief and rehabilitation attempt. PCC/ACN: has been focusing on the Shrinathkot in building rapport with the communities there and helping government where possible. Last weeks were focused basically on exploring more about the VDC. Food supply continues if there is any desperate needs know to us. The update data of the distribution of the relief supplies has reached 8895+ households (approx. 38385 populations) and the coverage is as below:
| | | | |
| --- | --- | --- | --- |
| Households | Population | Villages (VDCs) | Districts |
| 8895 + | 38385 + | 41 + | 7 + |
| | | | |
We have compiled a short video to help understand what the situation is like …
Please feel free to share this video and subscribe to our youtube channel. We will have more to share in the future. Stay Updated.
ACTIVITIES CONDUCTED
Food Distribution: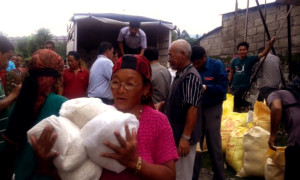 Pokhara: 79 households were chosen for the second distribution in Pokhara. These households were mostly those who have relatives from Gorkha and Dhading staying with them.
Thumi village, Gorkha: Thumi is approximately 200 km from Gorkha and due to the rain was very difficult to reach. We had been told that it would not be possible to take food to this area directly, but we were very keen to do so. It took our team 6 days to get there. The trucks got stuck; the road was blocked by trees, mud and landslides. The team faced lots of challenges; they didn't have enough food with them and found it hard to find places to stay. It was also difficult to find trucks and tractors to move the goods. However finally they did it and 1230 households in Thumi received a food package each. The packages included 30 kgs rice, 2 kgs lentil, 1 ltr oil, 1 kg salt- enough food for the village for a month. The villagers really appreciated the effort our team made to bring food to them and thanked them for the good quality and the quantity. This brings our total food distribution in phase one to 9500 households (45,000 people).
Feedback meeting in Shreenathkot, Gorkha:
The villagers told us that they were happy with the quality of the food we had supplied, the materials, the training, and the work with the children. They were also pleased with the way that ACN/PCC had managed to deliver services directly to the target communities. One leader asked whether we were there to convert them to our faith. We used that question as an opportunity to explain why we as Christians, were involved with the disaster relief and to explain about the collaboration of people around the globe who truly love them and have given generously.
Children's health camp – Shreenathkot, Gorkha:
A children's health camp was held for a week at Simle in Shreenathkot. Each day more than 100 children attended the camp. The team carried out various hygiene activities such as shaving their hair, bathing them and teaching them how to use toothpaste. They dressed their wounds and treating diseases such as scabies. They also ran fun activities for the children and taught them about nutrition. The team consisted of health workers and volunteers with special gifts working with children. Brother Altamir and Sister Ana came from Brazil to help with health activities and were extremely helpful in this camp.
Water filter distribution:
A 2 nd lot of water filters (from Water With Blessings) were distributed. The filters were given only to those who were willing to share with at least two families. Most people receiving filters were lower cast people who are most at risk from contaminated water.
Movements
Satoshi and Youki returned home to Japan. Altamir and Ana also returned to Malaysia – but we hope, they will come back to help when health post work starts. Brother Greg and Anthony with their wives from World Concern have arrived. They are helping us with project design and with setting up systems for future work. Tim, Sonia and Hannah who helped us especially on the Dhawa and Thumi trip also have left. We appreciate their support.
The next stage
Seed Distribution: 800 packs of composite vegetable seeds packs purchase have been ordered. People in the villages are currently engaged in planting rice and millet. When they have finished this, the seeds will be distributed.
Toilet construction: Janajagriti and Arkul primary schools have requested help to construct toilets. We plan to do this in the next few weeks.
Building approval for the health post and the Village Development Committee (VDC) office: The local community have raised money to buy land for a new VDC office and they have cleared the site using a bulldozer. Approval for this building is needed from the District Development Committee (DDC). We are now asking them about this. Unfortunately we still have not got permission from the DDC to rebuild the health post. We may have to bypass them and go straight to the Ministry of Health to gain approval and get the guidelines for how it should be built.
School construction work: This is a massive project as 10 schools need to be constructed. Consultations with the local community and the relevant government section will begin when we know what funding is available for this task.
Children's health camp in September: Based on the need seen in the community and those expressed by the people, there will be another health camp in September. This camp will focus on treatment of disease, hygiene awareness for mothers, nutrition and psychological support and will be supported by Dr. Arian Gurung a podiatrist.
Finance
Of the NPR 50 million (USD 500,000) that has been raised so far approximately 50% has been spent. Thank you for your generous gifts and your trust in us. We stepped out in faith with only NPR 500,000 (USD 5000) and we are so thankful to God for His faithfulness and blessings to us.
A new fiscal started in Nepal on the 17th of July. We have therefore closed our accounts for last year and started afresh with the remaining funds.
Cost for future work:
The preliminary plan shows NPR 115 million (USD 1.15 million) will be required for the health post, schools, VDC Office reconstruction, community radio installation and livelihood support work in 2-3 years of time. A concept note on this is available on request.
AN URGENT NEED
Our future support in Shreenathkot relies heavily on our presence there. We have to make frequent journeys to the area which is approximately 100 km/5 hours driving from Pokhara and is only accessible via unsurfaced roads. Up until now we have rented a jeep each time we have gone to Shreenathkot or elsewhere, however this is not a long term solution, as renting a jeep costs NPR 20,000 (USD 200) per day. As we are now committed to working in the area for at least the next two years, we feel it will be more cost effective to buy a 4 wheeler jeep to support our on-going work in this region. This will be a big initial outlay (an Indian make costs approximately NPR 3,500,000) but it has become a necessity.
Special prayer requests for
Wisdom in formulating project proposals.
Funding assurance for the future work.
Approval from the Government for the construction projects.
The regular work of ACN which needs to be picked up and resumed.
Funds for a jeep.
FOR IMAGES: